Every woman deserves to pursue her ambitions, whether married or a mother. In Pakistan, many working women, especially mothers, have struggled to maintain their work-life balance. They leave their children alone at home or with maids or drop them to their grandparents. All these aspects can be risky and create a mess. Luckily, as the number of working mothers increased in Pakistan, people and companies realized the need for childcare centers.
Now, working parents have gotten relief from the disturbing thoughts of who will care for their kids during their working hours. Whether your child is an infant, a toddler, or a preschooler, the concept of providing the facilities of daycare in Pakistan enables moms to continue their careers carelessly. The daycare centers hire a hard-working crew that wholeheartedly welcomes the children and takes care of them for a limited time when their parents are at work.
Here are the top daycare centers and companies that provide daycare facilities in Pakistan:
Nestle Pakistan
Nestle Pakistan is a renowned food and beverages company in Pakistan which provides astounding facilities to its employees. The company not only facilitates its employees, but it ensures their family's well-being as well.
Bearing the work-life balance in mind, Nestle provides daycare facilities for employees to work in peace, knowing that their children are in the right hands. The industry has expanded its daycare centers in Pakistan's major cities, including Lahore, Islamabad, and Karachi.
Martin Dow
Martin Dow counts as one of the top companies in Pakistan with daycare facilities Karachi. This groundbreaking organization provides its employees a range of facilities, including day care. Martin Dow allows their employees' kids to have a playful and learning environment while their parents can focus on their jobs.
They understand the struggles of working parents and their wish to give them proper time. Therefore, this company ensures that the children are in a safe environment and in the hands of highly skilled and experienced staff. Also, they offer various educational facilities so parents can trust them with their child's upbringing.
Unilever Pakistan
Unilever Pakistan is one of the most prominent multinational companies operating in Pakistan. In the era where more companies are initiating daycare services, Unilever was among the first few organizations to do so, meeting its employees' needs.
Unilever started its daycare facilities in 2004 by establishing daycare centers at its office in Pakistan. These centers were introduced to address and understand the challenges faced by working parents. Also, the relaxed and serene environment in these centers always succeeds in achieving parents' satisfaction.
Daraz
Women of Daraz strived to initiate their daycare facilities and succeeded in their mission. Now, it is one of the best daycare centers and serves as a stress reliever for working parents. The organization provided a splendid space where children could participate in different activities, learning programs, and various cognitive games.
Moreover, Daraz has a caring staff of professionals and teachers that is loved by children and inspire their parents through their fabulous childcare services. Their dedication to providing a lovely environment for children makes it a go-to choice for working parents.
Pakistan National Foods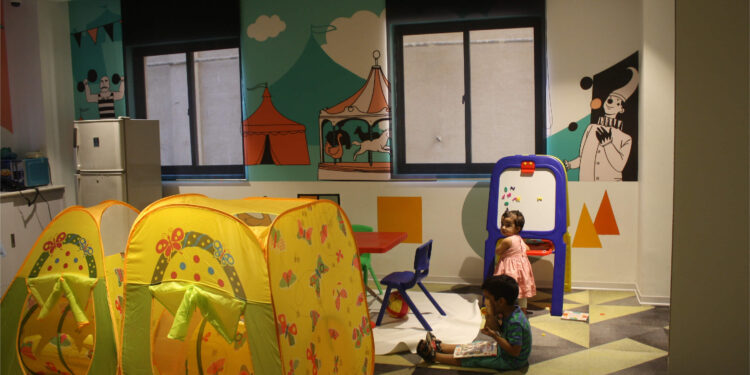 Pakistan National Foods, an incredibly renowned organization in Pakistan, understands gender diversity in the workplace and provides the best childcare services for the ease of working parents. The center is dedicated to taking good care of the children and provides them with a secure environment for productive time.
Pakistan National Foods provides services to maintain a family-friendly environment in the office so that parents can be stress-free during working hours. The diligent staff welcomes the children with open arms and educates them playfully to keep them active and contented.
Habib University
Habib University, a well-known name among the universities of Pakistan, encourages women's education and career development. To support the women, the university initiated an outstanding daycare program where working women can rely on them for their children's excellent upbringing. Habib University welcomes children and provides various inspiring services, like primary care, education, nutrition, and supervision.
This way, Habib University maintains a women-friendly environment and encourages women to continue working while their children are cared for by professional caretakers. The energetic staff and the active environment this daycare offers make the children attached to this place. Thus, it counts as many working women's top choice for their child's daycare and development.
Contour Software Pvt Ltd
Contour Software Pvt. Ltd. is located in major cities of Pakistan, including Karachi, Lahore, and Islamabad, providing a happy baby daycare center for the convenience of working parents. This incredibly built daycare space provides children with free space to play, learn, eat, and nap.
Contour Software trains its staff and ensures the children feel safe and comfortable with them. Their phenomenal services and extraordinary care have earned parents' respect and trust for their children's best daycare. It's also one of the leading software houses in Pakistan.
Engro Corporation
Engro Corporation has inspired the masses not only through its business expertise but also because of its dedication to its employees' well-being. The company supports working parents by providing them with distinctive daycare facilities.
What's more, their daycare centers contain highly trained staff that willingly pay attention to children's physical, emotional, and cognitive development. The craft is super passionate about children's learning and productivity. Therefore, they keep them engaged in different activities.
Standard Chartered Bank Pakistan
Standard Chartered Bank Pakistan stands out for its superior banking services and for maintaining the country's financial sector. However, its services are not the only appreciable thing as its facilities have also won the hearts of people all around the country. One of the remarkable facilities this bank provides to its people is a childcare facility.
The bank understands the need for daycare centers for employees having kids, as the children require proper attention while growing up. Therefore, Standard Chartered Bank provides them with a loving family of professional caretakers and a friendly environment that makes them feel at home.
GlaxoSmithKline (GSK) Pakistan
GlaxoSmithKline (GSK) Pakistan is one of the highlighting pharmaceutical companies that has been operating in the country for years. It has also been an exemplary organization for many companies in Pakistan to initiate the daycare facility for its employees' relief.
GSK understands that it can be stressful for parents to leave their children at home or under a relative's or maid's supervision. This stress can also affect their productivity in the workforce, which is why it is essential to have a trustworthy platform for all working parents.
Therefore, GSK provides an ideal daycare center where children's development and care are highly prioritized. As a result, the organization contributes to employees' satisfaction, ensuring an enhancement in their productivity.
Let's Wrap
The list does not end here, but these are the ten best companies with daycare facilities that reside in different cities in Pakistan. The Early Years, DHA daycare and child development center, also made its name among the best daycare centers in Pakistan. Furthermore, Pakistan's companies providing maternity, paternity, and daycare facilities should be highly appreciated. These are some of the crucial facilities that most parents will avail of in the near future.
In addition to taking care of children, these daycares also work for their development and educate them through different compelling activities, which is a plus point for parents. The staff treats them like their children and provides them with a lovely environment. So, the parents can now relieve their stress and rely on these daycare centers for home-like treatment for their children