SadaPay is a safe and smart online money management platform that is created to ease the domestic and international payment processes in Pakistan.
It's a digital wallet that allows you to open an account from the app and get a physical card without any registration fees. 
Now, let's understand SadaPay in detail.
What's SadaPay?
Like Jazz Cash and EasyPaisa, SadaPay is also a new payment gateway in Pakistan that can make your online business, freelancing, e-shopping easy by allowing you to pay and receive money through the card. The best thing is that it allows international payments without any hassle of transaction fees. Now, you don't have to worry about online shopping, signing up on Netflix, Amazon, and Scribd because it successfully removes all the payment complexities by making the digital payment process easy. You can not only spend and send money but can also withdraw cash without any fee.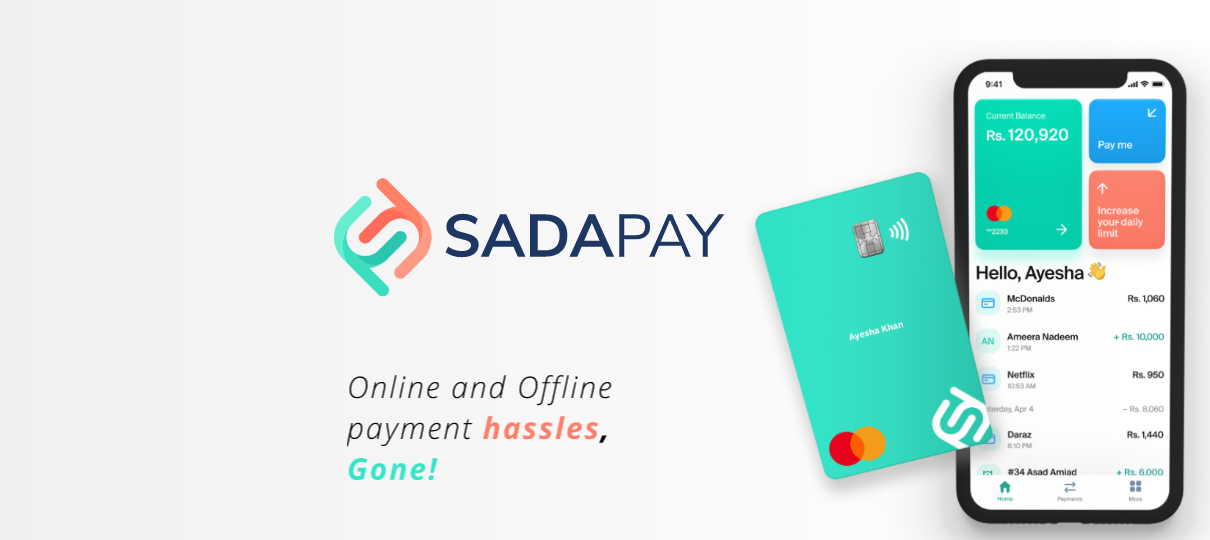 As the name states 'Sada,' the mission is also the same to make money management effortless and instant. This is a great benefit for freelancers in Pakistan as they are always complaining about the insufficient payment gateways in Pakistan. 
Now, you must be thinking why are they giving such valuable services for free?
It's because they don't have any physical branches like your traditional banks so the cost they saved from there goes to their customers to let them enjoy SadaPay No Fee. Their only income is 1.5 percent of the total amount of your international purchases through the card. For now, they are only dedicated to reducing the difficulties of digital payments in Pakistan so our country can also gain a competitive edge in freelancing.
SadaPay owner, Brandon Timinsky has a firm belief that if Pakistan overcomes its financial complexities, it can be the game-changer of the freelancing industry and can play a major role in boosting the country's economy.
He has been working with the State Bank of Pakistan to normalize international payment with a zero-fee model.
Things SadaPay Account Can Save You With
1. Long Registration Process
You only need to follow 3 steps and you're done with the registration process. No paperwork and no more waiting in the queue to open your account.
2. Additional Fees
Nowadays, when you shop with your debit card or withdraw money from your account, there are some charges which always apply to the purchase. But with SadaPay you can be at ease because it charges no fee on online shopping, transactions, and withdrawal. 
Note: The cash withdrawal fee only applies when you withdraw money 4th time from the ATM. The transaction fee is zero unless your transfer exceeds 10K.
3. Payment Hassles
Today when you wish to purchase Netflix or Scribd subscription, you need to call banking support to enable your internet banking and follow a long process ahead. But with SadaPay you can dismiss these type of hassles and transfer money within no time. And no more hidden charges are applicable on the services.
Bank of Punjab and SadaPay Collaborated to Promote Digital Payment Ecosystem In Pakistan
With the sole purpose to eliminate the complexities of online money in Pakistan, team SadaPay join hands with the Bank of Punjab (BoP) for the payment security and the settlement of domestic and international transactions. BoP has a growing customer base of over 2 million and is actively playing its part to promote the digital payment ecosystem in Pakistan. Their partnership with SadaPay will be a great step towards FinTech innovation and will also open opportunities for freelancers and students who earn through home-based jobs.
Frequently Asked Questions
Is SadaPay free?
Yes, it's absolutely free. Apart from the zero-fee on online shopping and transactions, you can also avail free cash withdrawal from local ATMs 3 times a month. The local transactions are also free unless it exceeds 10K, and the forex rate is only 1.5 percent on international transactions.
Can I shop online for SadaPay?
Yes, you can shop online through Sadapay. They have also collaborated with Master card so now you can also get the free Mastercard debit card. You can use the SadaPay Mastercard on e-commerce, point-of-sale (POS) and ATMs. 
Is Saday debit card free?
Yes, it is. 
Worried about Security?
When you consider any new services, security is the most concerning thing especially when it's about online payments. But with SadaPay you can be at peace because they protect your money with data encryption methods and use best-in-class data fraud detection system. Plus, they are governed by the State Bank of Pakistan under the EMI (Electronic Money Institution) regulations. If in case your card is stolen or misplaced, you can lock your card using the app. Furthermore, SadaPay is also registered with Securities & Exchange Communities of Pakistan as Sada Tech Pvt Ltd. 
Apart from all these, by using SadaPay you can receive international remittances from 45 countries using services like Payoneer, Moneygram, Western Union, and more. It has all the plans to make your remote jobs easy. That's why the freelancing community is eager for its launch.
And one thing more!
The sophisticated look of the card will double the fun of your banking experience. It's simple yet has all the features to fit in your modern-day standards. So with SadaPay you are also getting the bold look of your card along with quality banking. Plus, you can also track the real-time updates of your card through the app.
SadaPay features and functions look promising and revolutionary for the digital industry of Pakistan. If this all stands true, then Pakistan's economy will see a major boost through FinTech innovation.
But for their team, competition is going to be tough as there's already NayaPay, Sim Sim, JazzCash, and EasyPaisa under the customer's favorite choice.
I prefer books and diaries more than phones and Facebook. Soulfully connected to Pakistan. And I passionately believe that I can change the world through blogging.