Want to travel the world but don't know the best online airline tickets website in Pakistan? You're not alone. 
When it comes to choosing the best website for online flight booking, the number of options can be confusing. Since the task is to get the best deal at the cheapest price, you need to filter the one from the many.
But not to worry as here we bring you a quick rundown of the best websites of Pakistan to book travel tickets online.
Let's get started:
Sastaticket.pk
Sastaticket.pk is the second-largest travel management company in Pakistan. It has a total of seven branches and a workforce of 250 people who are working to make travel hassle-free.
Whether you're looking to book air tickets, domestic or international hotels, or tour packages, they aim to provide the best customer experience through cutting-edge technologies.   
As depicted by its name, they work to accommodate travelers at affordable rates. Sastaticket has a strong association with thousands of hotels across the globe which leads you to avail discounts and deals through their website.
Best feature: A budget-friendly online air ticket booking website that keeps on bringing compelling deals to make travel fun. They also offer virtual visits to hotels to let you find the best hotel for your trip.
Wego
Wego was founded in 2005 to help people discover the value of travel. Today, it's used by millions of people who look for adventures, travel for family and work purposes. In Pakistan, it offers flights to popular destinations such as Lahore, Islamabad, Gwadar, and more cities. The price ranges from Rs, 15,000 – 35,000.
You can also book your flights for international travel through their website. Whether you're looking to book a local trip, cultural tour, or family-friendly holidays at your favorite place, they have the right solutions for you.
The best part is their travel blog where they consistently bring travel news and thrilling places for you to explore.
Best feature: It's their app that provides a best-in-class search and booking experience. It brings everything to your fingertips including hot deals and popular destinations.
Checkin.pk
Pakistan's first online travel agency Checkin.pk allows you to search and book your flights from anywhere you want. It's an initiative of Checkin technology Pvt. Ltd that aims to provide the best flight options for travelers.
Booking a ticket at Checkin.pk is a three-step process. You only need to search the flight, make the selection and confirm your booking. Further, you can pay with secure online payments including Easypaisa.
So, if you're looking for cheap flights from Pakistan, this is a go-to platform for you. It also allows you to compare the prices between different airlines to get the best deal.
Best feature: They offer a travel insurance policy to avoid any type of mishaps during the journey. The flight comparison feature is also one of their price-savvy features.
JetPakistan
Similar to Checkin.pk, JetPakistan is also a one-stop-shop for all travel-related services. If you're looking for online air tickets for domestic and international travel, they can help you find the cheapest deal through their online portal.
You can also book a round trip, one-way trip, or multi-destination trip at a discounted price. Regardless of the airline, you choose to travel they make sure you reap the most from their website.
With the mission to empower Pakistani travelers with instant bookings and comprehensive choices, they are always on the top to bring exciting and affordable deals for their customers.
Best Feature: It lets you book cheap flights from Pakistan to fly Pakistan or to international spots. 
Skyscanner
Started in 2003 as a flight search engine, Skyscanner is now a global leader in travel. They have served 100 million people through their app and website custom travel plans. It's a global platform that was started in the UK but also has a presence in Pakistan.
It offers you cheap flights from Pakistan to Dubai, Jeddah, Istanbul, London, and Bangkok. Before booking the travel, you can compare low-cost flights and cherry-pick one. If you love travel hullabaloo then Skyscanner is the best support system to make your travel plans easier.
You can browse through their cheap flight options and decide the one according to your plan. In addition, you can also hire a car through Skyscanner to make your travel chaos-free.
Best feature: Its app makes decision-making easy for you. You can search, compare and pick the one best fit from the many. 
[Relevant: Pakistan launched its Online Visa System]
PlanMyTrip
Planmytrip.pk is one of the best air tickets online booking agencies in Pakistan which is powered by Team Travel and Tours Pvt. Ltd. It allows you to buy economical hotel, tours, and Umrah packages through the best airlines such as Shaheen, Airblue, Serene and AirSial.
At Planmytrip, you can search the flight either roundtrip or one way, enter the details and send queries to them, they will revert within the shortest time span with the right offer. 
They also offer travel insurance. The good thing about this travel policy is that you can plan everything at home with their online resources and customer support team.
Best Feature: It's a reliable and good platform for tour packages especially if you're looking for a 5 star Umrah package. 
BookMe.pk
BookMe.pk is created with the vision to simplify traveling for the people of Pakistan. It started within the country to provide people with cheap and hassle-free cinema, bus, and trip tickets online. And now, it also offers online airline tickets at low prices.
With its website or application, you can book flights or hotels wherever you want. It's one of the fastest-growing websites that takes no commission on airline tickets. 
You can avail domestic and international tours at the best possible fares.
Best feature: They keep on giving discounts and deals to make you travel to your dream places at a budget-friendly rate.
CheapOair
It was started in 2005 to help budget-savvy travelers. CheapOair is a global platform but it provides hassle-free flights from Pakistan within your budget.
With their long list of economical hotels, you can book your instant reservation. They also help you with cheap rental cars on the snap of your finger to overcome the travel barriers. 
If you're looking to travel to India, Nepal, Jordan, Lebanon, the Philippines, or Turkey then CheapOair is best to connect you with your dream places.
Best feature: From cars to hotels to flights and vacation packages, they make everything reachable with a click. You only need to open their app to find one best deal for yourself.
Faremakers
Faremakers is a leading website for online ticket booking Pakistan. It makes all travel facilities accessible from one place. It's the go-to platform to get air tickets at cheap prices, flight deals, and advance booking facilities.
The best part? You can book the tickets and their riders can drop them at your home. It's one of the few websites in Pakistan that offers affordable flights for 5000+ international destinations. 
Moreover, they also have secure payment options. You can also pay them through the HBL online app.
Best feature: Regardless of the airline you choose to travel the discounted flight deals will maximize the travel experience.
KAYAK
KAYAK is part of Booking Holdings Inc – the world leader in online travel & related services. It's a good platform if you're looking for cheap airfare to Pakistan. Either you're looking to travel to Karachi, Lahore, Islamabad or any other city from international locations, it has the best prices for you.
You can also find the best tips for finding cheap flights to Pakistan from their site. In addition, if you want to book the ticket through the top 5 airlines flying to Pakistan, they can also help you with that.
The top 5 airlines flying to Pakistan include Qatar Airways, Turkish Airlines, Etihad Airways, British Airways, and American Airlines. 
Best feature: It makes information available at your fingertips. From booking the flight to finding the best online airline tickets, everything is accessible on their website.
Cheapflights
More like Kayak and Skyscanner, Cheapflights is also a popular metasearch site that offers cheap flights to Pakistan. It's the right website for foreign travelers to satisfy their curiosity to explore Pakistan.
It was founded in the UK, launched in the US and solely managed by KAYAK – an independent subsidiary of Booking Holdings.
At Cheapflights, you can find packages, best deals, news, tips and updates to make your mind for the travel. It's also a good platform to take travel inspiration and make the most of your journey.
Best feature: It lets you search for the best deal and compare prices with its travel search engine.
Fatima Travels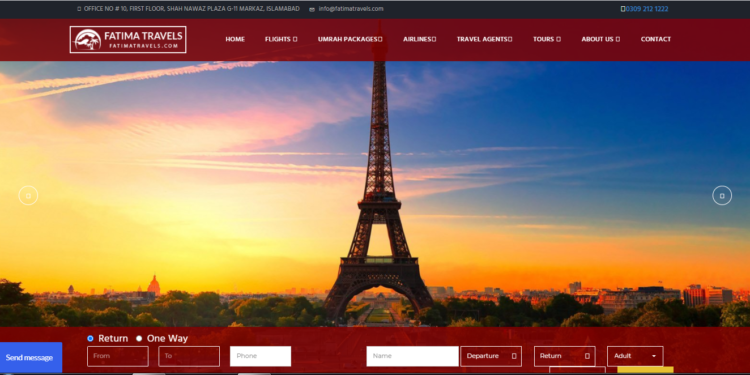 Fatima Travels is a travel agency that facilitates you with complete information about air ticket, air flight, airport, your visiting destination, their focal points, eateries, must-sees, and local transport.
You can take this website as a travel guide for cheap flights, domestic, and international travel. The company gives you the freedom to plan your travel the way you want it.
Whether you're looking to book airlines, trips or rent a car, the travel agency makes sure that you have an everlasting experience through their website.
Best feature: They have travel agents for family and business travel to keep you tuned with every information you need.
I prefer books and diaries more than phones and Facebook. Soulfully connected to Pakistan. And I passionately believe that I can change the world through blogging.