Nowadays in Pakistan, two-wheelers are a necessity for every household. People may have differing views on the bikes' model, size, speed and price. But we all want to buy a vehicle that provides safe riding and must be under our budget. We all know that after the waves of COVID-19, the vehicle market is finally on.
So, are you looking for the best 100 cc bikes of 2023?
After the break of almost two years, bike showrooms are filled with new branded models and the starting range of HONDA, Unique, and United starts from 35,000 PKR. Are you still not sure which bike is perfect for you? If the answer is yes, then why not take our assistance and have a look at the new 2022 and 23 models of bikes? Find out the local price rates and other important specifications here in this blog.
List of High-Rated Bikes in Pakistan 2023 
Here is the list of the top 5 trending 100cc motorbikes available in the local markets of Pakistan. However, the prices of bikes can be different in one way or another.
1. United 100cc, Price 61,000 
In recent years, the United auto industry has generated so much revenue from the local markets. All credit goes to the style, affordable and long-lasting motorbikes. Due to the attractive look and pocket-friendly price, we have rated this model at the first position.
This 100cc bike is available in two shining colours, red and black. This model can be the perfect choice for safe and long rides for consumers. With a warranty of six months to one year, United 100cc provides a flexible ride. Here are some interesting specifications listed below.
Specifications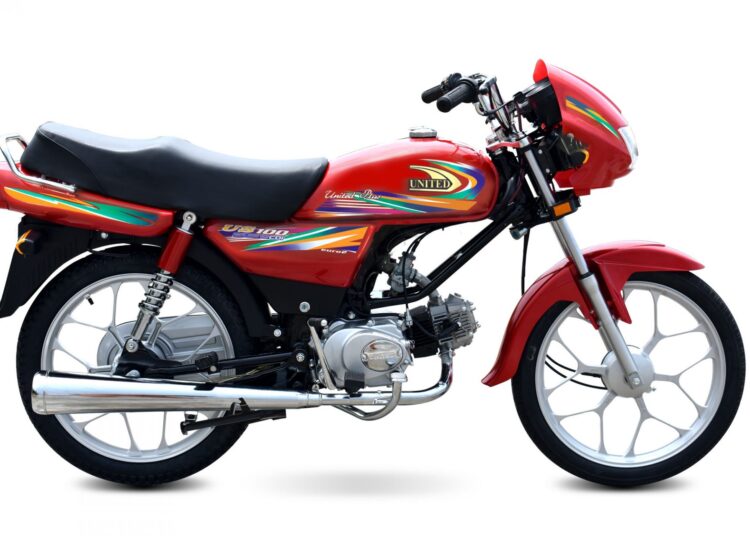 Engine Type 4-Stroke, OHC Single Cylinder, cooled by Air
Compression 8.1:1
Tyre Front 2.50-18/4PR
Fuel Tank Capacity 8.5 Litre
Engine Oil 0.8 Litre
Transmission 4-Speed
Battery 12 Volt
Starting Kick Start
2. Honda CD 100cc Euro 2 Price 82,000 to 85,000
Here comes the much-awaited bike of every generation. Commonly known as CD 100c, this Euro 2 model is worth around 85 thousand Pakistani rupees and has all the specifications consumers look for. With a top speed of 112 kph maximum, Honda CD gives a smooth ride on fast and zigzag roads. This new model of 100cc bike is packed with a black painted silencer, powerful suspension, strong road grip and wider tyres. Honda CD Euro 2 is the perfect find for an easy and comfortable ride.
There are numerous beneficial specifications included in the new Honda Euro 2 model 2022. Such as element air cleaner, 65 km in 1 L fuel efficiency, Utility Box and many more. In simple terms, the Honda CD 100cc can be your dream bike due to its various features and specifications in the bike.
Specifications
Engine Type 4-stroke OHV air-cooled single cylinder
Compression 8.8:1
Tyre Front 2.75 – 18 4 PR
Tyre at Back 2.75 – 18 6 PR
Fuel Tank Capacity 12.2 L
Transmission 4 speed
Ground Clearance 156 mm
3. Hero Splendor 100cc, Price 53,000
Want to have a bike with special specifications that should be economical? Then why not turn towards the Hero Splendour 100cc bike, which is available in the market in known colours red and black? With the specification of the backbone frame, there is no need to worry about the heavy weight of the engine, as the backbone frame is more effective than the underbone.
Due to the cheap and affordable rate, Hero Splendor has more demand in big and commercial cities of Pakistan. The weight of this superb bike is around 90 kg, and it gives flexible riding and a handy experience when you are in the countryside on rough roads. Here are the specifications to help you make up your mind.
Specifications
Engine Type Air Cooled, 4-stroke, Single Cylinder, OHC
Compression 9.0:1
Tyre Front 2.50 – 17
Tyre at Back 2.75 – 17
Fuel Tank Capacity 9.8 L
Transmission 4-speed
Ground Clearance 145 mm
4. Power PK 100 Awami, Price 58,000
In the race for the best 100cc bikes in Pakistan, Awami 100 comes at number four on our list. Most people don't know that Powar PK Model 2022 is winning the hearts of consumers. With the cradle-type frame and CDI electronic ignition system, the Avami 100cc motorbike is way more modern as compared to others.
Power PK 100 Awami is known for its Air Cooled cooling system and 4.0 KW/7500r/RPM BHP power. Features include rear and easy front brakes, manual transmission and four effortless changing gears increasing its demand in the local bike showroom market.
Specifications
Engine Type 4 Stroke, OHC Air Cold
Compression 8.8:1
Tyre Front 3.0 x 18 4 PR
Tyre Back 3.0 x 18 6 PR
Fuel Tank Capacity 15.0 Litre
Transmission 4-speed
Mileage 1.5L/100 km
Max Power 4.0 kW/7500r/RPM
5. Kawasaki GTO 100 Price, 70,000
Kawasaki is the real monster in the 100cc bike market in Pakistan, where everything is extraordinary and large except the price. Yes, this 2-stroke, 1-cylinder engine bike can be yours at a reasonable price. This bike has an overall transmit limit of up to 5. Not just that, this remarkable bike also gives the feel of riding a bike on an open and clean road. There are so many reviews available of this fast and appealing motorbike.
In the same way, Kawasaki GTO is a fan favourite of travellers because of the larger space and oversize seats. So this model of Kawasaki can be your travelling partner and will surely take you on the most exciting ride.
Specifications
Engine Type 2 Stroke,1 Cylinder rotary disc valve
Compression 6.8:1
Tyre Front 2.50 – 18
Tyre Back 2.75 – 18
Fuel Tank Capacity 10 L
Transmission 5-speed
Weight 85KG
Wheel Size 18 In
Displacement 99cc
Bottom Line 
Pakistani markets are filled with thousands of motorbikes. But it is always up to you to choose. These shared models of bikes, along with their brands, are available in the local markets of Pakistan. Otherwise, online selling and purchasing are also possible. You may get these models cheaper than the shared price because of the different market rates of cities around our country. But these listed motorbikes are in today's demand, and 2023 will be known for these bikes. You can also share your favourite bike in the comment section below.
You can also check: [Best Affordable Cars in Pakistan]