Hey, People!
Meet Lizzie Velasquez, the survivor of neonatal progeroid syndrome – a rare condition that prevents her from gaining weight.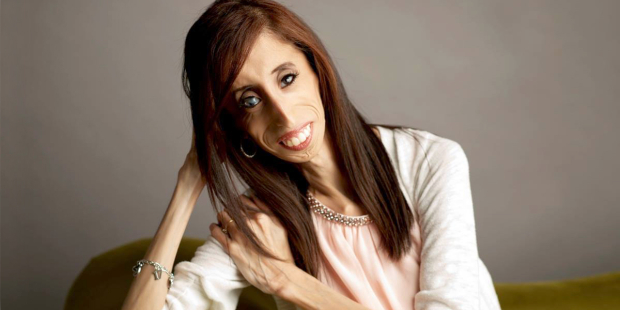 She was only seventeen when she came across an online video which labelled her as "The Ugliest Women on Earth."
This shattered her soul into pieces and this is when she decided to turn her haters into love towards her.
Although she was not responsible for her being, it was the God who wanted her this way and sent her to earth with the syndrome and the blindness of the eye from the left side.
But the day she found the hate of the world towards her was the unforgettable day of her life. She would have attempted suicide but her optimism wouldn't allow her for that.
So, she took the courage to embrace herself with all the imperfections she has and stepped in the journey of being herself.
Within 10 years of consistency, she became a YouTube star – the same platform where she was bullied and become triumphant in spreading love across the masses.
Now, she's a successful author, motivational speaker, YouTuber and social activist. Had she not realized her potential, she wouldn't be conquering the world today with her imperfections.
The moral here is that our imperfections make us unique in our own way, we only have to look beyond it. If you see her, she doesn't exist in our Perfect frame that says a beautiful face, a healthy body and a flawless life but still, she's the star because she has left behind all the stereotypes and show that there's no such thing as Perfection.
Not Convinced?
Meet Nicholas Vujicic – the man without no limbs
Close your eyes and imagine YOURSELF without limbs. How painful?
And yes, this man exists and see how he has made his imperfections his identity. His journey is inspiring and yet a big lesson for us.
He was born without legs and arms and was constantly bullied in school for being different. He went into the state of mental depression, listening to the ill-thoughts of people and attempted suicide but was saved, fortunately.
But then he realized that it's not me who has problem with the world but the world who sees the problems in me.
He thought of facing all the challenges and started mirroring himself as the perfect man. That's when his life took a 360-degree turn.
He finds the escape of his struggles in public speeches. From the age of 19, he used to give speeches to small groups and never gave up on his education.
With his positive attitude and embracing his well being, he now runs a successful organization with the name 'Life Without Limbs.' He has also travelled to over 57 countries and successfully shared his story with more than 400 million people.
Apart from this, he's also running a happily married life with his wife and two beautiful sons who are the world for him.
Take note, if he was born perfect, I wouldn't be covering his story here.
It's only the imperfections that make us different and separate us from the others. We only have to embrace it with the right attitude and that's how we find the meaning of our lives.
Now, let's talk Local.
Meet our very own Amna Ilyas, the Baaji star who proved us that "Dark is Beautiful"
From her school life, she had been bullied for her dark skin. People only used to judge from her complexion which hides the immaculate talent for which she deserves to shine.
She used to get frustrated when the photographers and artist paint her as the white model and colour her skin to the extent that it starts looking fairer. She felt so discouraged that she walks off because all she wanted was an identity with the complexion the Almighty has given her.
But the societal pressures was limiting her capability. But she fought against all the odds and while holding the LUX trophy she can't resist her words from pouring out
"When I started modelling I got praise and criticism at the same time," she said on stage. "I was repeatedly told 'aye hai yeh to kaali hai' (oh but she is so dark). Thank you Lux for helping me believe in myself. This goes out to all the dark-skinned girls."
Now, that's how you win the game with all your Imperfections.
Embrace the 'You' in Yourself
So, what I gathered from these stories is that the idea of perfection lies in your fascination only. There's no such thing as Perfection. And if you ask me the definition of perfection, I'd say,
"It's something that limits our ability to grow and put us behind from winning the battles of our lives."
If you stop chasing it and start being yourself, you'll see how much burden you will erase from your shoulders and start earning the peace of mind.
On the flip side, if you constantly tell yourself that you're not perfect and the person next to you is perfect you'll only be left with shame and complexities and that will rule your personality. And remember the person you're inside reflect your outside.
While reading the "Gifts of Imperfections" I realized that we are humans and we feel shame. We fail, we cry, and that emotions in us rejuvenate the bonds with our humans. If we wouldn't have these emotions then we are nonetheless than a robot.
Let's say our lives become perfect and we all become perfect people with perfect faces and body.
What would be our identity?
And what would be racing for?
Think about it.
So, say it with me.
I'm perfect the way I'm and there's no such thing as perfection. If the society tells me to be perfect I just have to ignore it and only focus on improving myself. My only competition is me and I'd only strive to become better than yesterday.
If you're reading this, I'd say you're perfect the way you're. Let's not other sets the parameters for you.
I hope my stories let you mold towards the betterment of your inner self.
Feel free to talk about your pain points in the comments below, I'd be happy to speak with you.
I prefer books and diaries more than phones and Facebook. Soulfully connected to Pakistan. And I passionately believe that I can change the world through blogging.