It's your weekend and you don't want to waste it juggling between the items, standing in the long queue, and waiting for your turn to get the shopping done.
Fortunately, there are a few grocery apps in Pakistan that make the job easy. From finding the perfect avocado to saving your time to wait, these grocery apps are making our lives easier. If you're still rushing to the grocery stores, take a look at our top 10 apps and websites below. Some of them can also deliver the groceries in 10-15 minutes.
1. Grocer App
With excellent customer ratings and reviews, Grocer App stands on top of the list. It's an amazing online app where you can find things on one go. Also, it claims to be the largest online supermarket in Pakistan. When you sign up for the first time on the Grocer App, you can get 10% cashback and free deliveries on the first 3 orders. The app operates in Islamabad, Lahore and Rawalpindi for now but has plans to conduct operations nationwide in future. 
Categories it Serves: Grocer App offers you a wide variety of items ranging from baby care to skincare and personal care products. Also, you can find bakery and dairy products, OTC and Wellness, frozen as well as instant food items on Grocer App. Beverages are also available on this grocery app.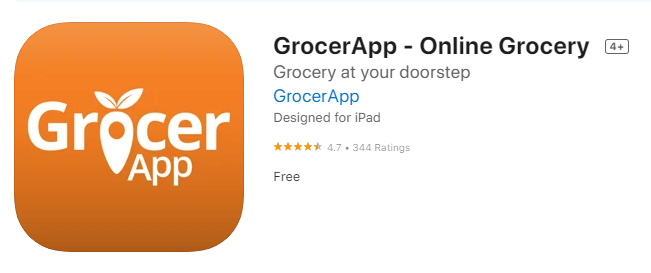 2. Airlift Express
The name of the app is worth it, as it offers you the free and fast express delivery of grocery items. Airlift Express promises to deliver the items within 30 minutes. This makes it the best online grocery app in Pakistan. You don't need to step out of your door, just shop on Airlift Express and it will bring the groceries to you
Their operating hours start from 9:00 a.m – 11:00 p.m. Moreover, only a few grocery apps offer delivery in Peshawar and Gujranwala. Airlift Express is one of them and it is the reason that we have ranked this app number 2 on the list. It delivers in Faisalabad, Hyderabad, Gujranwala, Peshawar, Islamabad, Karachi, Lahore, and Sialkot.
Categories it serves: You can find a large variety of products on Airlift Express i.e., Meet, bakery items, fresh fruits and vegetables, pharmacy, dairy, and electronics.
3. Pandamart (Foodpanda)
Many Pakistanis love to order their meals via Foodpanda and therefore, they blindly trust pandamart. Pandamart is an online grocery app introduced by foodpanda. Pandamart offers you easy access to grocery items at low prices. Since Pandamart is new in grocery apps, it is still in the evolution phase. This grocery delivery app Pakistan delivers items in different cities like Lahore and Karachi. However, it depends on your location in the city whether Pandamart will deliver in that specific location or not.
Categories it serves: Pandamart features all your favorite brands on one platform. You can find all the well-reputed brands from Shan to Unilever on Pandamart.
4. dMart- Daraz Online Grocery store
When discussing online shopping websites in Pakistan, Daraz is a must to mention. Daraz is famous for shopping for different accessories, jewellery, and other items. But you can also order grocery items from Daraz signature grocery store called dMart. Daraz assures the quality of products via its grocery store. You can choose either the same-day delivery option or the next-day delivery.
Wondering about the most exciting feature of dMart app? It offers you several discounts, vouchers, and deals. Particularly when you place a big order like grocery items for the whole month, you will definitely get amazing discounts. Currently, the dMart delivers orders in Lahore, Karachi, and Islamabad.
Categories it serves: You can find different categories to shop from dMart. These include beauty and personal care, baby care, snacks, fresh products, and many more.
5. 24Seven
You might have heard this name the first time but it's worth mentioning. It's an authentic and best online grocery website in Lahore. With the availability of more than 4000 products, you have great options to shop on its site. So far, they only deliver in Lahore. They may expand their business to other cities in the future.
Categories it serves: From breakfast items to snacks, beverages, meat, vegetables, and self-care products, you can find everything on the website.
6. Imtiaz Supermarket
Imtiaz Supermarket is best known for its low prices. It is the best online grocery store in Karachi. Imtiaz also offers gift cards and a loyalty program to its regular customers. The home delivery service of Imtiaz is only for those who are in Karachi and Faisalabad.
Categories: it serves: On its website, you can find different types of products i.e., fresh products, home care, bakery items, clothing, and many others.
7. Naheed.pk
Want to have a convenient online shopping experience?  Install the Naheed app and place your order. Naheed is known for offering high-quality products, original brands, best rates, and amazing discount deals to its customers.
Naheed offers express shipping for the grocery items that need to be delivered within 4 to 5 hours only in Karachi. However, for self-care and other products, Naheed offers shipping all over Pakistan.
Categories it serves: You can find all the grocery items at Naheed. Moreover, it also allows you to shop from different categories such as fashion, makeup, gaming, beauty, etc.
8. Metro Online
Looking for the best grocery app in Karachi? Metro Online is one of the best grocery apps that deliver in Karachi and many other cities of Pakistan. You can shop from your nearest Metro store via the Metro online app. Metro Online delivers in many cities of Pakistan i.e., Lahore, Islamabad, Karachi, Rawalpindi, Faisalabad, and Multan.
Categories it serves: Metro Online is not only a grocery app. It also allows you to shop for electronics and clothes online. The categories you will find on Metro Online include Grocery, cooking essentials, beverages, dairy, health and beauty, fresh and frozen food. Also, you can find kitchen electronics on Metro Online.
9. Krave Mart
Karve Mart is one of the most talk-about grocery apps in Pakistan as it claims to deliver orders in 10 minutes only. The app also became a headline in 2021 due to its short-term delivery services. But it's yet to explore if it fulfils instant cravings? Due to its instant delivery service,  it found its place on the list of best grocery apps in Pakistan.
Since Krave Mart is providing you with instant delivery, their services are location specific. They only ship to specific areas of Karachi i.e., Gulshan Iqbal, DHA, Clifton, and Gulistan-e-Johar. However, they will be adding more areas to their list in the future.
Categories it serves: you can find different grocery items at the Krave mart including meat, beverages, vegetables, fruits, and spices.
10. HumMart
Last on the list is HumMart, a grocery delivery service by Hum network. Hum network is a big name in the television industry. And now they have entered the field of eCommerce with the HumMart grocery. The exciting thing about their service is that they offer a 100% money-back guarantee to their customers. So you can easily place your order without worrying about the quality.
HumMart delivers groceries only in Karachi. However, they deliver other items like self-care and beauty products in Lahore, Islamabad, and Rawalpindi as well.
Categories it serves: The categories for grocery items include flour and rice, spices, dry fruits, etc. Also, you can find personal care and hair care products on its website. They also offer several Rashan Packages, particularly in Ramzan.
These are the 10 best grocery apps in Pakistan. What is your experience with online grocery apps? Have we missed any good recommendations on the list? Let us know in the comment section below.
Writing permits me to be more than I am. My secret to becoming a writer is to write, write, and keep on writing.